Episode 149 of the Serious Sellers Podcast hosts an English expat lawyer in Dubai who after a failed first try, is launching another Amazon product.
Podcast: Play in new window | Download
Subscribe: Apple Podcasts | Android | Google Podcasts | Stitcher | TuneIn | Spotify |
It's easy to romanticize the idea of living in Dubai, surrounded by Lamborghinis and record-setting skyscrapers. Unfortunately, when it comes time to pay the rent, the romance ends. It's simply a very difficult place to try to live with a proportionately high cost of living.
That's where having a second source of income is important. Today on the Serious Sellers Podcast, Helium 10's Director or Training and Customer Success, Bradley Sutton welcomes Christina Smith, an English "expat" lawyer who moved to the United Arab Emirates (UAE) for work.
Christina is going to give us the inner scoop on what it's like to launch an e-commerce product on Amazon USA as a foreign national. She'll also help us understand what life is like in Dubai and tell us a little bit about her plan to document her Amazon selling journey on YouTube.
In episode 149 of the Serious Sellers Podcast, Bradley and Christina discuss:
01:45 – Project X in Dubai
04:30 – After Rainy London, Dubai Sounded Pretty Good
07:00 – How Did Christina Find Amazon?
09:30 – A Challenging First Amazon Product Launch
11:45 – She Had a Head Start with Souq.com
13:30 – In the United Arab Emirates (UAE) Noon.com Leads Amazon
15:20 – Amazon's Unified Marketplace
16:45 – How a Foreign National Sets Up an Amazon USA Account
19:15 – Using Project X and Developing Relationships with Factories
21:30 – Putting Her Social Media Skills to Use
23:50 – Focusing on YouTube
26:00 – Drilling Down on the Information that You Connect With
27:40 – Documenting Her Amazon Journey on YouTube
28:50 – Soccer Balls, Size Five?
32:00 – Waiting on Data
33:44 – Christina's 30 Second Tip
Enjoy this episode? Be sure to check out our previous episodes for even more content to propel you to Amazon FBA Seller success! And don't forget to "Like" our Facebook page and subscribe to the podcast on iTunes, Google Play or wherever you listen to our podcast.
Want to absolutely start crushing it on Amazon? Here are few carefully curated resources to get you started:
Freedom Ticket: Taught by Amazon thought leader Kevin King, get A-Z Amazon strategies and techniques for establishing and solidifying your business.
Ultimate Resource Guide: Discover the best tools and services to help you dominate on Amazon.
Helium 10: 20+ software tools to boost your entire sales pipeline from product research to customer communication and Amazon refund automation. Make running a successful Amazon business easier with better data and insights. See what our customers have to say.
Helium 10 Chrome Extension: Verify your Amazon product idea and validate how lucrative it can be with over a dozen data metrics and profitability estimation. 
SellerTradmarks.com: Trademarks are vital for protecting your Amazon brand from hijackers, and sellertrademarks.com provides a streamlined process for helping you get one.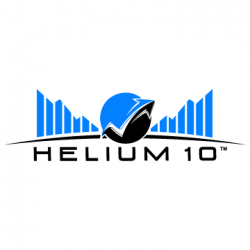 Latest posts by Helium 10
(see all)