Episode 161 of the Serious Sellers Podcast features three brand-new Amazon sellers comparing their experience with last years' e-commerce novices.
Podcast: Play in new window | Download
Subscribe: Apple Podcasts | Android | Google Podcasts | Stitcher | TuneIn | Spotify |
A year, and 121 episodes ago, Bradley welcomed three new Amazon sellers onto this podcast to tell their e-commerce stories. Today on the Serious Sellers Podcast, Helium 10's Director of Training and Chief Brand Evangelist, Bradley Sutton welcomes those same three sellers back to talk about what the last year on Amazon has meant to them as e-commerce novices.
Joining them this time around will be another three brand-new members of the Amazon selling club. They're going to discuss their aspirations for the next year and how they became interested in the Amazon selling model in the first place.
It's fascinating to see the seemingly unlimited number of "lanes" that exist within the Amazon ecosystem. You'll also enjoy seeing the way these six sellers are navigating e-commerce (and a pandemic) with so much resourcefulness and creativity.
In episode 161 of the Serious Sellers Podcast, Bradley looks at the Amazon journey of six sellers:
03:20 – Catching Up with Adriana
06:00 – Challenges with Negative Reviews
08:00 – Combining Shopify and Amazon
10:20 – Copywriting Matters
13:00 – The Coronavirus Pandemic Creates Difficulties for Mayana
16:00 – It's All About Timing
18:30 – The Leverage of a Service-Based Industry
20:30 – Amazon's Multiple Lanes
23:00 – Three Brand-New Amazon Sellers  
25:30 – Financial Freedom Is at the Top of the List
28:00 – Productive "Guilt"
29:45 – Variations with Size and Keywords  
31:30 – The Pandemic was a Decisive Point
33:00 – Playing Around with Helium 10's Profitability Calculator and Saving Money 
35:30 – From Producing Music to Another Passion; E-Commerce
37:30 – Putting the Instagram "Cart" Before the Amazon "Horse"  
40:00 – For Chris, it's Long Tailed Keywords First
Enjoy this episode? Be sure to check out our previous episodes for even more content to propel you to Amazon FBA Seller success! And don't forget to "Like" our Facebook page and subscribe to the podcast on iTunes, Google Play or wherever you listen to our podcast.
Want to absolutely start crushing it on Amazon? Here are few carefully curated resources to get you started:
Freedom Ticket: Taught by Amazon thought leader Kevin King, get A-Z Amazon strategies and techniques for establishing and solidifying your business.
Ultimate Resource Guide: Discover the best tools and services to help you dominate on Amazon.
Helium 10: 20+ software tools to boost your entire sales pipeline from product research to customer communication and Amazon refund automation. Make running a successful Amazon business easier with better data and insights. See what our customers have to say.
Helium 10 Chrome Extension: Verify your Amazon product idea and validate how lucrative it can be with over a dozen data metrics and profitability estimation. 
SellerTradmarks.com: Trademarks are vital for protecting your Amazon brand from hijackers, and sellertrademarks.com provides a streamlined process for helping you get one.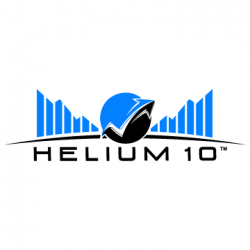 Latest posts by Helium 10
(see all)