Episode 153 of the Serious Sellers Podcast hosts a 20-year-old Amazon seller who already has a few e-commerce tricks up his sleeve.
Podcast: Play in new window | Download
Subscribe: Apple Podcasts | Android | Google Podcasts | Stitcher | TuneIn | Spotify |
Increasingly, the e-commerce world is seeing younger sellers that have decided that their life path might not necessarily include a college education. Maybe it's the stories of college students struggling to pay off astronomical student loans. Whatever the case; a significant number of baby-faced Amazon sellers are starting to make their mark on e-commerce. 
Today on the Serious Sellers Podcast, Helium 10's Director of Training and Chief Brand Evangelist, Bradley Sutton welcomes Paul Savage, a 20-year-old Amazon seller with a few tricks up his sleeve already. Paul employs a cleverly suggestive technique where he shows matching images of products in his Amazon listings, resulting in multiple "add to carts," and greatly increased sales.
Here's an opportunity to learn something from the younger generation. In episode 153 of the Serious Sellers Podcast, Bradley and Paul discuss:
01:10 – Paul's Mind Control Product Bundling Technique
04:15 – Rooted in Nature with Zero Interest in College
05:45 – No Lemonade Stand for Paul
07:00 – A Tax Return Leads to an FBA Product  
08:40 – A Supportive Family Makes It Even Easier
10:15 – Launching Products that Solve Problems
11:20 – Does the Customer Need Another Option?
15:00 – The Little "Wins" Add Up
18:00 – Paul's Scroll Test
20:00 – Starting with the Knowledge that Amazon is Furnishing the Buyers
21:10 – Paul's Three PPC Campaigns; Scout, Manual and ASIN Targeting
25:00 – How Long Does This Take?
27:00 – He's a Fan of Amazon's Early Reviewer Program
28:45 – Be the Additional Sellers for Your Own Product   
32:15 – Search Volume Game Heroics
33:50 – Paul's 30 Second Tip
34:30 – How to Reach Out to Paul
Enjoy this episode? Be sure to check out our previous episodes for even more content to propel you to Amazon FBA Seller success! And don't forget to "Like" our Facebook page and subscribe to the podcast on iTunes, Google Play or wherever you listen to our podcast.
Want to absolutely start crushing it on Amazon? Here are few carefully curated resources to get you started:
Freedom Ticket: Taught by Amazon thought leader Kevin King, get A-Z Amazon strategies and techniques for establishing and solidifying your business.
Ultimate Resource Guide: Discover the best tools and services to help you dominate on Amazon.
Helium 10: 20+ software tools to boost your entire sales pipeline from product research to customer communication and Amazon refund automation. Make running a successful Amazon business easier with better data and insights. See what our customers have to say.
Helium 10 Chrome Extension: Verify your Amazon product idea and validate how lucrative it can be with over a dozen data metrics and profitability estimation. 
SellerTradmarks.com: Trademarks are vital for protecting your Amazon brand from hijackers, and sellertrademarks.com provides a streamlined process for helping you get one.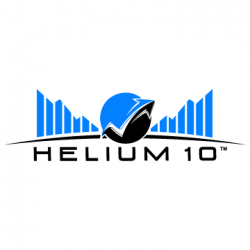 Latest posts by Helium 10
(see all)