Episode 156 of the Serious Sellers Podcast hosts an Amazon PPC expert with great strategies using new video and sponsored display ads.
Podcast: Play in new window | Download
Subscribe: Apple Podcasts | Android | Google Podcasts | Stitcher | TuneIn | Spotify |
When it comes to selling on Amazon, there's nothing that's quite as hot as PPC. Everyone wants to know the secret. E-commerce is changing by the minute and a 'secret' might be only be a week or two old.
Today on the Serious Sellers Podcast, Helium 10's Director of Training and Chief Brand Evangelist, Bradley Sutton welcomes Destaney Wishon. After growing up in Bentonville, Arkansas, the home of Walmart, she's almost destined to end up in the business world.
As often happens, she backed her way into e-commerce with a bartending job that put Destaney, and her smarts in front of some influential Walmart-connected people.
Now, she's one of the leading experts in a field that is changing how sellers advertise on Amazon. Recently, Destaney helped a client make a million dollars in one month with sponsored display ads alone.
PPC secrets anyone?
In episode 156 of the Serious Sellers Podcast, Bradley and Destaney discuss:
01:25 – Destaney – "Test Every Ad Style and Type"
03:00 – In Bentonville, Everyone Has a Connection to Walmart
04:50 – Bartending Her Way Through College and Into Entrepreneurship
08:15 – She's Spent Time Everywhere in the Sales Funnel  
10:00 – Structuring Your Amazon PPC Campaign
13:30 – Your Bid is the Best "Lever" You Can Pull
15:15 – Collecting Data with 15 Cent Clicks  
18:00 – Incremental Targeting Tactics
20:30 – You Can't Replicate What Makes a Keyword Successful
24:00 – Targeting Your own ASIN – What's Happening?
26:35 – Sponsored Video
32:00 – Launching with PPC Alone
34:30 – Make Sure that Your Backend is Optimized
36:00 – TikTok is on the Rise 
38:20 – Sponsored Display Ads
39:25 – How to Reach Out to Destaney       
Enjoy this episode? Be sure to check out our previous episodes for even more content to propel you to Amazon FBA Seller success! And don't forget to "Like" our Facebook page and subscribe to the podcast on iTunes, Google Play or wherever you listen to our podcast.
Want to absolutely start crushing it on Amazon? Here are few carefully curated resources to get you started:
Freedom Ticket: Taught by Amazon thought leader Kevin King, get A-Z Amazon strategies and techniques for establishing and solidifying your business.
Ultimate Resource Guide: Discover the best tools and services to help you dominate on Amazon.
Helium 10: 20+ software tools to boost your entire sales pipeline from product research to customer communication and Amazon refund automation. Make running a successful Amazon business easier with better data and insights. See what our customers have to say.
Helium 10 Chrome Extension: Verify your Amazon product idea and validate how lucrative it can be with over a dozen data metrics and profitability estimation. 
SellerTradmarks.com: Trademarks are vital for protecting your Amazon brand from hijackers, and sellertrademarks.com provides a streamlined process for helping you get one.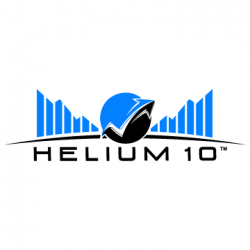 Latest posts by Helium 10
(see all)