Episode 160 of the Serious Sellers Podcast hosts the founder of a consumer products company that acquires and operates Amazon FBA businesses at scale.
Podcast: Play in new window | Download
Subscribe: Apple Podcasts | Android | Google Podcasts | Stitcher | TuneIn | Spotify |
Why did you start selling on Amazon? Was it to have some extra side income? Was it to replace your 9-5 job? Was it a way that you could live the "laptop lifestyle?" 
Today on the Serious Sellers Podcast, Helium 10's Director of Training and Chief Brand Evangelist, Bradley Sutton welcomes Chris Bell. He's going to talk about another outcome from starting a successful Amazon Business: Selling it for a big payday to a company like his. They are in the business of looking for Amazon brands that meet their criteria, and then offering a boatload of money to purchase their businesses.
What's the least they have ever paid for an Amazon business? $400,000.
The most? Listen to this episode to find out, and to see what steps you need to take now in order to potentially sell your Amazon business in the future!
 In episode 160 of the Serious Sellers Podcast, Bradley and Chris discuss:
01:10 – What Do You Need to Do to Sell Your Amazon Business
05:00 – Never Think You're Stuck on Just One Path
06:45 – Creating New Products isn't for Him.
12:00 – Connecting Great Amazon Product "Launchers" with Buyers
13:00 – The Most Important Things That Bring an Amazon Business Value
15:45 – Buy the Brand Only? Or Entire Account?
18:00 – Does Selling Off-Amazon Add Value?
21:00 – What's My Company Worth?
22:45 – How Does a Seller Add Value to Their Amazon Business?
24:00 – Quality Products Instead of Quantity of Products
25:45 – What's the Most You've Paid for an Amazon Business?
28:00 – Creating a New Business Model That's Entrepreneur Positive
32:30 – Fidget Spinners? No Thank You!
34:00 – Chris's 30 Second Tip
35:00 – How to Reach Out to Chris
Enjoy this episode? Be sure to check out our previous episodes for even more content to propel you to Amazon FBA Seller success! And don't forget to "Like" our Facebook page and subscribe to the podcast on iTunes, Google Play or wherever you listen to our podcast.
Want to absolutely start crushing it on Amazon? Here are few carefully curated resources to get you started:
Freedom Ticket: Taught by Amazon thought leader Kevin King, get A-Z Amazon strategies and techniques for establishing and solidifying your business.
Ultimate Resource Guide: Discover the best tools and services to help you dominate on Amazon.
Helium 10: 20+ software tools to boost your entire sales pipeline from product research to customer communication and Amazon refund automation. Make running a successful Amazon business easier with better data and insights. See what our customers have to say.
Helium 10 Chrome Extension: Verify your Amazon product idea and validate how lucrative it can be with over a dozen data metrics and profitability estimation. 
SellerTradmarks.com: Trademarks are vital for protecting your Amazon brand from hijackers, and sellertrademarks.com provides a streamlined process for helping you get one.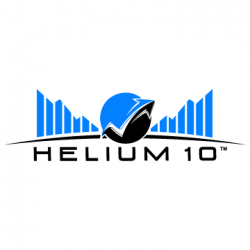 Latest posts by Helium 10
(see all)