If you frequently shop on Amazon (like I do and the majority of Americans do) you may notice some new features that appear as you scroll through Amazon search results.
A feature you have most likely seen is Amazon's editorial recommendations. This is a section within the search results that features product-related articles written by third-party content creators such as bloggers or influencers. As a shopper, you'll see a short snippet about the featured products with an option to read the full article to learn more about each product in detail.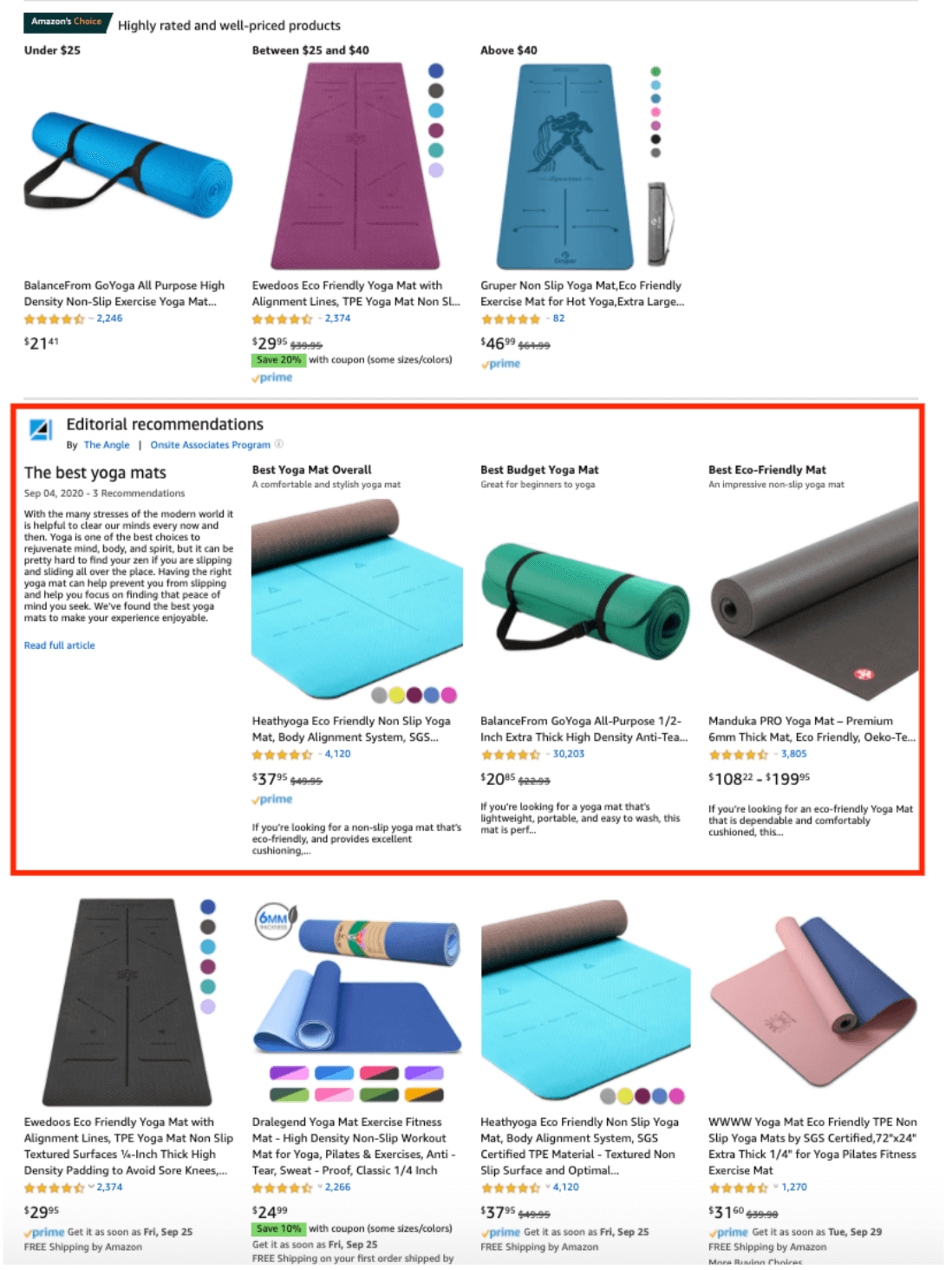 An editorial recommendation is an incredibly effective way to help Amazon shoppers research and discover products they might be interested in, and then have products described or reviewed in detail by an influential third-party. It's like a featured review! 
How it works 
Editorial recommendations are part of the Onsite Associates Program, an extension of the Amazon Associates (affiliate) program, that features product-related content from third-party creators such as bloggers or publishers. So instead of promoting affiliate products on their own website, bloggers will recommend and promote products directly on Amazon. Currently, in order to write and publish product-related content for the Onsite Associates Program, a content creator must be invited by Amazon. 
If a customer ends up making a purchase using the product link within the editorial, that publisher will receive a small commission for that sale. 
It's important to know that the content published in the editorial recommendation is not influenced by Amazon in any way. All of the opinions, recommendations, and product claims presented in the article are those of the content creator, not Amazon.
Who should use Amazon's editorial recommendations?
Before we go over how to get an editorial recommendation, let's quickly discuss who this program is for. 
To be up front, this is not a strategy for beginners. If you are just launching your first product, you will not be able to take advantage of this program. This is for established sellers who have products with a strong sales history and high review count. 
If you are just starting out, this is still a great strategy to learn about now and implement in the future!
Here are the minimum criteria needed for a product to be eligible for an editorial recommendation:
Minimum of 100 reviews with at least a 4-star rating

$30,000 a month in sales

Falls within the top 20% of

Best Seller Ranking

for its category

No medical claims on its listing

Not religion, sex, or drug related

Has plenty of inventory in stock 
In other words, using Amazon's editorial recommendations is a great way to boost a product that already consistently sells well and that previous customers rate highly. This way, you can drive additional traffic and sales to your Amazon listings without spending money on PPC. And your advertising cost of sale (ACoS) will be a fixed and predictable amount every month for the revenue that the editorial recommendation drives. (More to come on these exact costs.)
The benefits of editorial recommendations
In order to sell more products on Amazon, you need to get as many potential customers to view your listings as possible. 
Editorial recommendations are a highly effective way to guide more shoppers to your listing versus your competitors', as they take up much more visual real estate within the search results. 
(These are different from sponsored product ads in that the editorial recommendation breaks up the search results and is featured more prominently on the page.)
Using the yoga mats above as an example, you can see in the image above that the publication The Angle has written an article on "the best yoga mats." They are broken down into three categories: Best Yoga Mat Overall, Best Budget Yoga Mat, and Best Eco-Friendly Mat. 
Each of these categories capitalizes on top related keywords—in other words, the top reasons that motivate a customer to buy. For example, a customer may not care about being budget-conscious, and would rather buy a yoga mat that's eco-friendly. Having certain benefits highlighted right in the editorial recommendation section within the search results will make it much easier for a customer to make a decision. 
Additional seller benefits of Amazon's editorial recommendations
Provides social proof & builds trust
Social proof allows customers to build more trust in your brand when they see other customers loving it and/or having it recommended to them by a trusted third party. This is why reviews on Amazon are so powerful; they come from real customers — not the brand talking about how great they are.
Increases brand awareness
This type of specialized editorial content helps you grow brand awareness by educating customers on your product and why they should buy from you. Again, having a third party recommend and speak highly of a brand that the customer is likely unfamiliar with will build more trust in your brand.
Increase conversions and sales 
As with any advertising strategy on Amazon, there are many factors to its success. The added social proof that editorial recommendations provide helps promote your product over the competition, potentially driving higher sales. (See below for real-life examples of sellers who saw rising sales as a direct result of an editorial recommendation.)
How to get an editorial recommendation on Amazon
To get an editorial recommendation, you'll need to reach out to the individual publishers who post articles on Amazon. Or you can work with an agency. 
We'll describe the process of working with an agency like HBW Commerce, which collaborates with various third-party content creators and publishers who are approved for Amazon's Onsite Associates Program. 
How much does it cost?
To get started, you will first pay a one-time, upfront fee to have your article written by the publisher and syndicated to Amazon.
Once your product's editorial recommendation goes live on Amazon, you will pay a 10% fee each month for the total revenue that was generated directly from the editorial. This is highly beneficial because it generates a predictable monthly advertising cost, as opposed to running sponsored product ads and battling high ACoS. 
Pricing:
One-time, upfront cost:

$1,500

(normally $2,000)

10% or $500 minimum

each month for the total revenue generated (normally $1,000 minimum)
If you would like to access this pricing or learn more information about running your own editorial recommendation, you can fill out this form to contact HBW Commerce directly. 
How long will the article be displayed?
The way the article is displayed is based off of keywords, similar to how sponsored products ads run. Your article will go into a rotation with content from other publishers, especially for recommendations containing competitive keywords. 
So some customers will see your recommendation, while others may not. Again, it will depend on the exact keywords they're searching for. On average, HBW Commerce customers' editorial recommendations will be displayed about 25% of the time. 
What if you don't see any sales from the editorial recommendation?
If you don't get any sales from the editorial, HBW will waive the minimum fee for that month as well as look into additional editorial campaigns that will help get your product selling. 
If you don't like the wording of the article, can you get it changed?
Unfortunately, no. Since publishers create the content independently, you have no control over what they write about your products. But keep in mind that the publisher will paint your product in a positive light—that's the point of the program!
Real-life case studies
Here are some real-life case studies showing how this program has impacted product sales. FYI, you can also watch our video on editorial recommendations on our Youtube channel!
Vacuum Storage Bag Company
After running an editorial recommendation, this seller's  revenue from their featured ASIN for vacuum storage bags increased from $700/day to $1,200/day. This includes all organic, PPC, and editorial sales.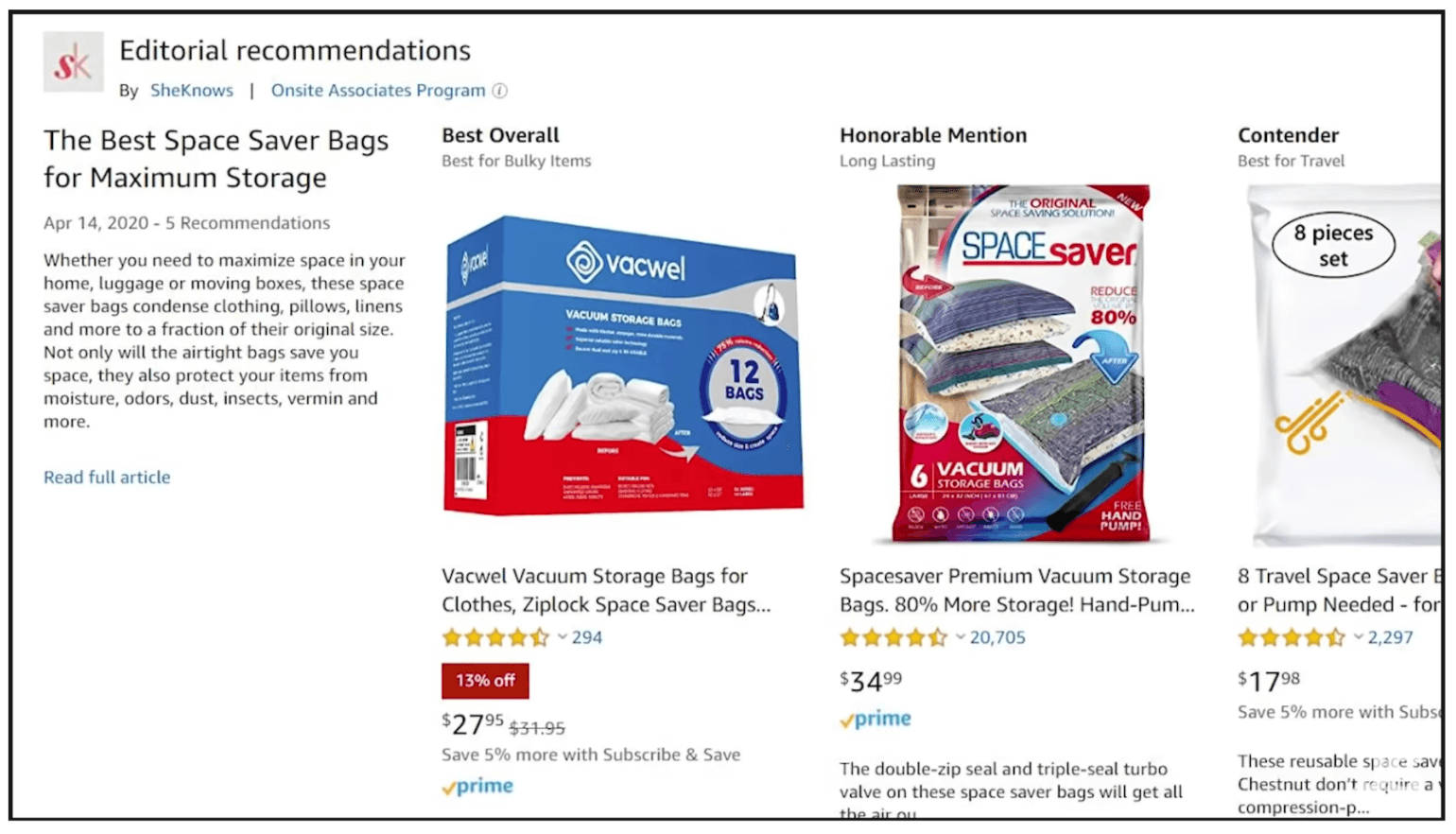 They also saw an increase in click-through rate (CTR) and conversions. 
As a direct result of the editorial recommendation, not only did the seller increase their sales, they also turned a struggling PPC campaign into a profitable one.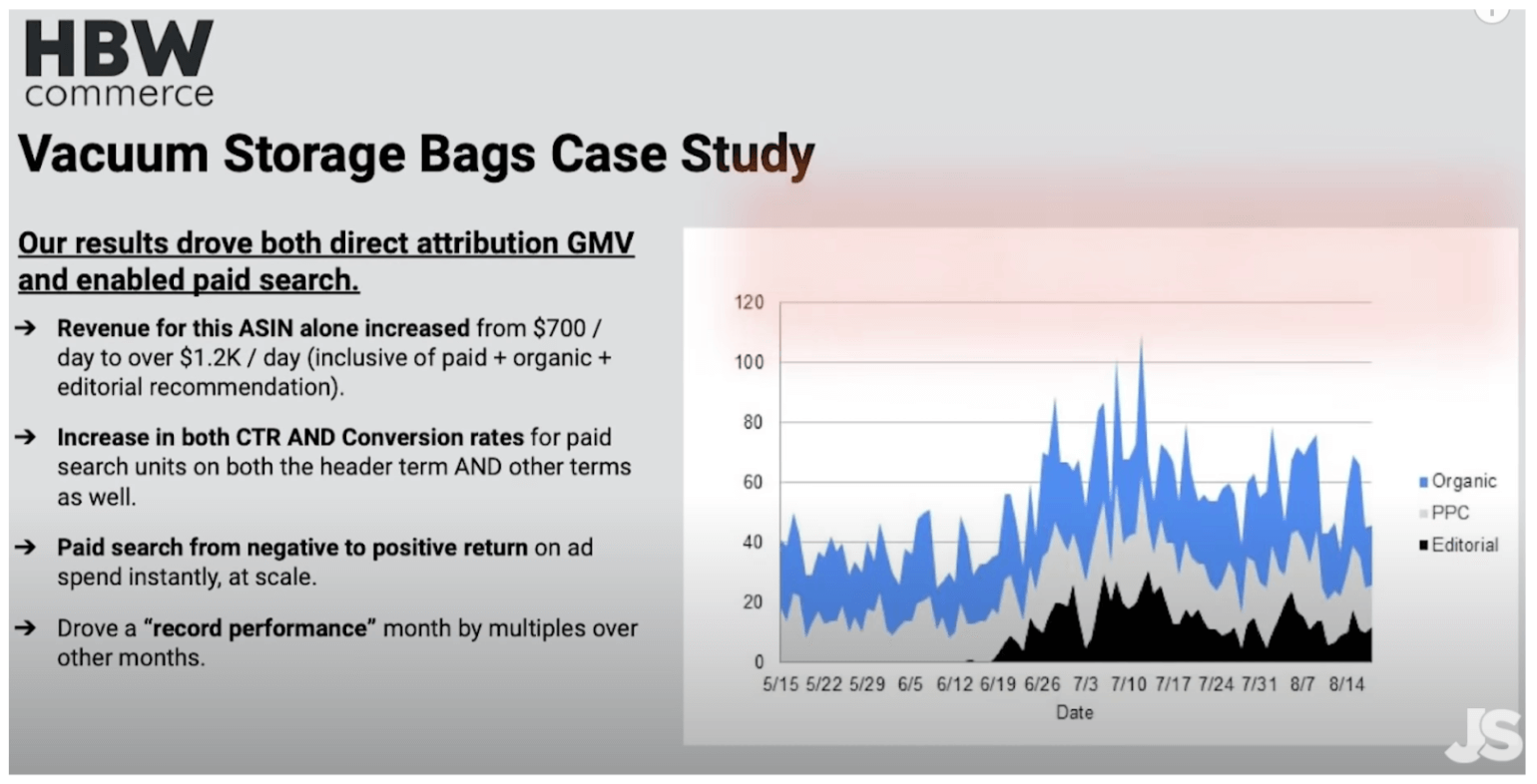 Milk Frother Company
The revenue from a featured ASIN for milk frothers increased from $500/day to over $12,000/day! No, that isn't a typo! This was inclusive of paid, organic, and editorial recommendations.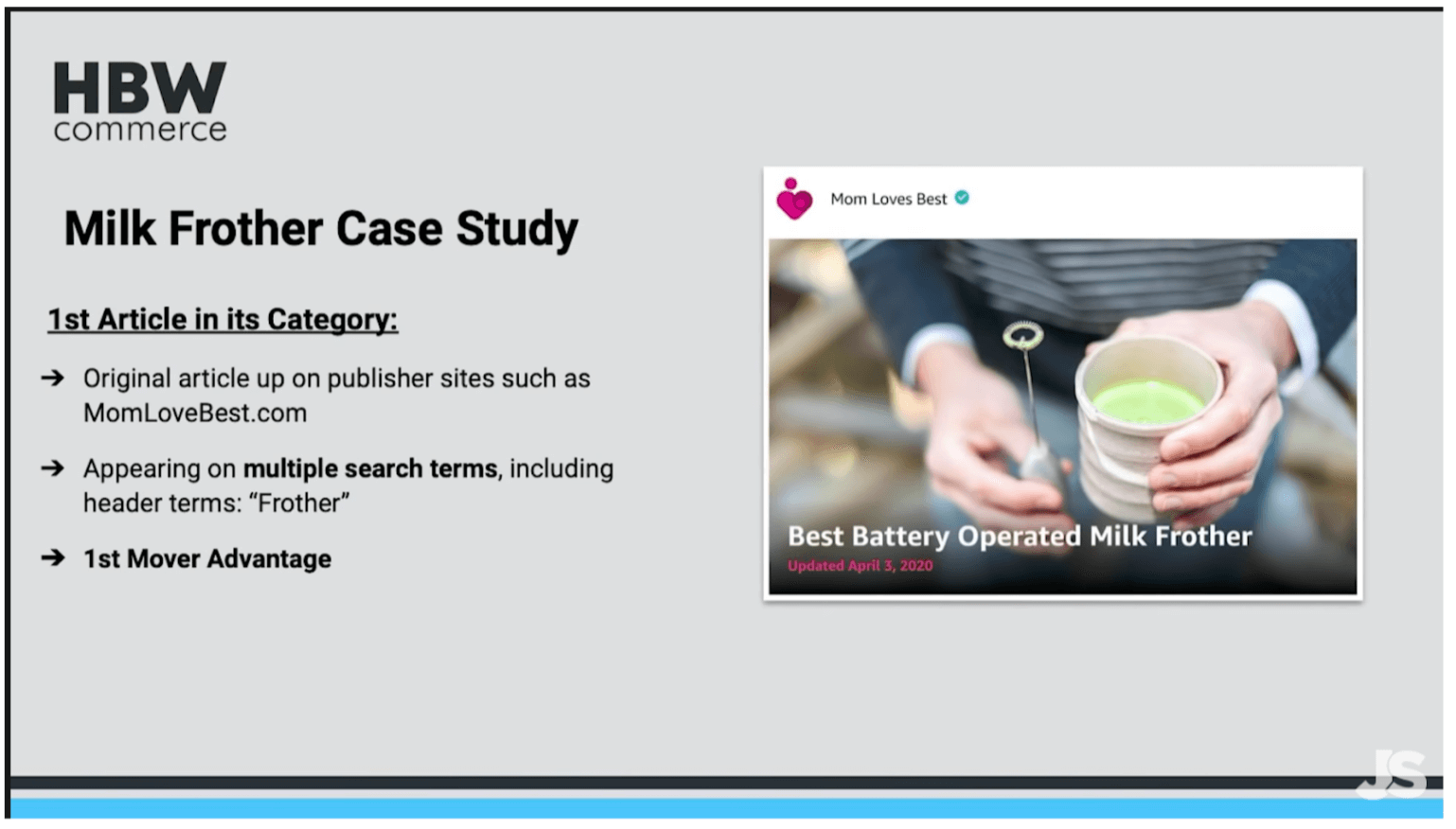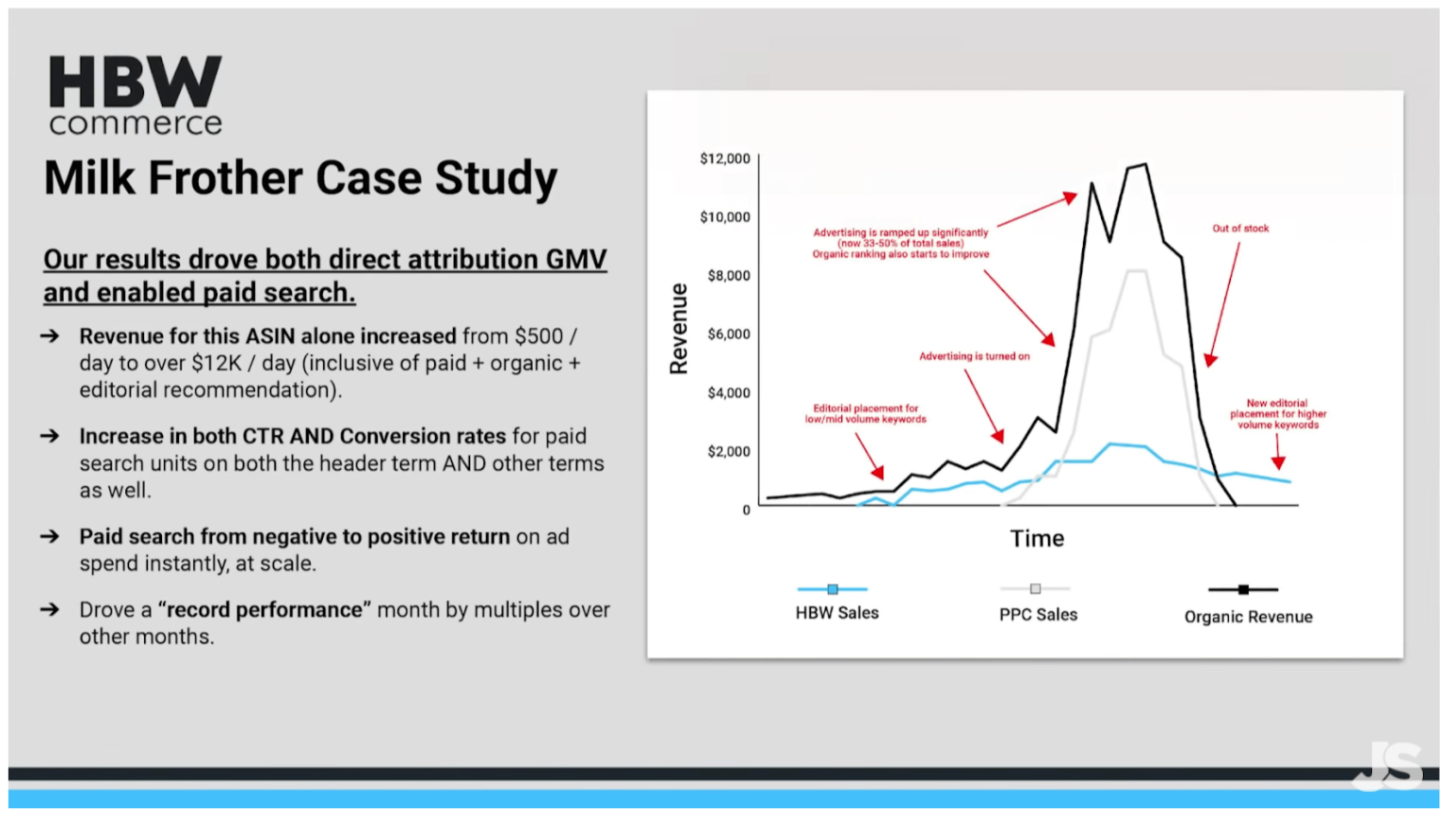 This also turned their negative PPC spend into a positive return as their CTR and conversion rate increased. 
The results from the editorial drove around 10,000 impressions per day and up to 1,000 clicks per day  for their main keyword, "frother."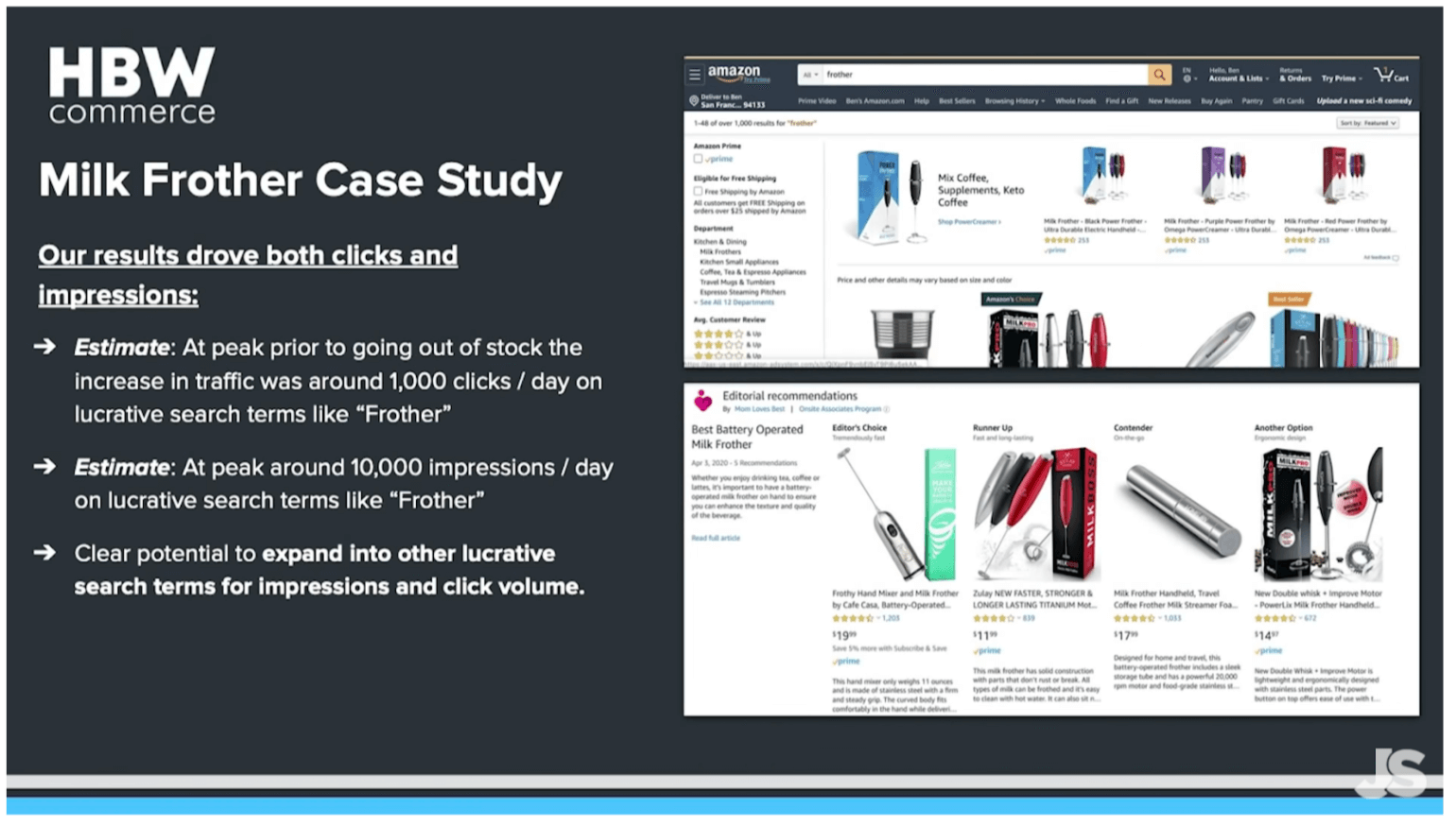 Though these results are not typical, it does show you the potential an editorial recommendation holds when paired with PPC and other marketing techniques. 
Get your product featured!
If you have any more questions about getting your products featured in an editorial recommendation, please leave us a comment below or reach out directly to HBW Commerce! 
Let us know if you plan to or have run an editorial recommendation and what your results were!