Episode 148 of the Serious Sellers Podcast hosts Silas from LEGO who tells how they use Helium 10's tools and helps explain Amazon's Vendor Central.
Podcast: Play in new window | Download
Subscribe: Apple Podcasts | Android | Google Podcasts | Stitcher | TuneIn | Spotify |
I love LEGO.
Like most of you, I've spent a big chunk of my life either creating amazing LEGO constructions or trying not to step on these little bricks in the middle of the night.
For all of us in e-commerce, we often hear about what it's like to scale up. As a company, LEGO takes scaling up to another level all together. Today on the Serious Sellers Podcast, Helium 10's Director of Training and Customer Success, Bradley Sutton welcomes Silas from LEGO to talk about how LEGO uses Helium 10's tools as well as the finer points of using a Vendor Central account.
Even though LEGO operates at a level that very few of us will ever reach, Silas will surprise you with a large number of e-commerce tips that are directly applicable to all Amazon sellers.
In episode 148 of the Serious Sellers Podcast, Bradley and Silas discuss:
01:40 – It's Not LEGOs It's LEGO
05:00 – How Did Silas Get His Foot in LEGO's Door?
06:30 – Becoming Aware of Digital Marketing and Amazon
08:00 – The AM/PM Podcast Was an Early Influence
08:50 – Vendor Central 101
11:00 – What Are the Advantages of a Vendor Central Account?
13:20 – At LEGO, It's All a Question of Scale
16:00 – Seeing the Amazon Experience from Another Angle
18:00 – The "Substitution Effect" and Brand Recognition
20:30 – Keywords as Audiences of Real People
24:15 – "Igniting the Courage to Pursue"
26:30 – LEGO Masters Help Create a Perfect Storm
29:30 – Not Letting Your Own Perceptions Blind You
33:00 – What's It Like to Make the Switch to Seller Central? 
37:00 – Bradley's Search Volume Game at LEGO Scale
39:25 – Silas' 30 Second Tip
41:00 – How LEGO Uses Helium 10's Tools
Enjoy this episode? Be sure to check out our previous episodes for even more content to propel you to Amazon FBA Seller success! And don't forget to "Like" our Facebook page and subscribe to the podcast on iTunes, Google Play or wherever you listen to our podcast.
Want to absolutely start crushing it on Amazon? Here are few carefully curated resources to get you started:
Freedom Ticket: Taught by Amazon thought leader Kevin King, get A-Z Amazon strategies and techniques for establishing and solidifying your business.
Ultimate Resource Guide: Discover the best tools and services to help you dominate on Amazon.
Helium 10: 20+ software tools to boost your entire sales pipeline from product research to customer communication and Amazon refund automation. Make running a successful Amazon business easier with better data and insights. See what our customers have to say.
Helium 10 Chrome Extension: Verify your Amazon product idea and validate how lucrative it can be with over a dozen data metrics and profitability estimation. 
SellerTradmarks.com: Trademarks are vital for protecting your Amazon brand from hijackers, and sellertrademarks.com provides a streamlined process for helping you get one.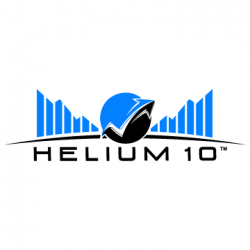 Latest posts by Helium 10
(see all)