This episode features the latest on Helium 10's new Inventory Management Tool and inventory strategies that can save you thousands of dollars.
Creating a successful Amazon business requires hard work, patience, a determination to learn new things and a solid business plan. But, at the end of the day, it's all about balancing your product costs, sales, and increasingly, making sure that you've got the right amount of inventory on hand.
That's why, inventory management has quietly become one of the most important factors in an e-commerce business' success. 
Today on the Serious Sellers Podcast, Helium 10's Director of Training and Chief Brand Evangelist, Bradley Sutton talks about inventory management strategies that can save you thousands.
But, here's the big news! In this episode, Bradley tells us all about the latest offering from Helium 10, Inventory Management tools.
Make sure to listen to this one.
In episode 176 of the Serious Sellers Podcast, Bradley discusses:
01:45 – Running Out of Inventory – What's the Problem?
04:00 – Finding the Inventory "Sweet Spot"
06:30 – Reorder Frequency and Interpreting Sales Data
08:30 – Inventory Mismanagement Keeps You from Scaling Up
10:45 – Does Intuition Work?
11:00 – Any Excel Wizards Out There?
14:00 – Forecasting Your Sales
15:50 – Helium 10's Forecasting Models
18:00 – When to Reorder
21:00 – How Helium 10's Inventory Management Tool Works
26:00 – How to Find Out More About Helium 10's Inventory Management Tool
Enjoy this episode? Be sure to check out our previous episodes for even more content to propel you to Amazon FBA Seller success! And don't forget to "Like" our Facebook page and subscribe to the podcast on iTunes, Google Play or wherever you listen to our podcast.
Want to absolutely start crushing it on Amazon? Here are few carefully curated resources to get you started:
Freedom Ticket: Taught by Amazon thought leader Kevin King, get A-Z Amazon strategies and techniques for establishing and solidifying your business.
Ultimate Resource Guide: Discover the best tools and services to help you dominate on Amazon.
Helium 10: 20+ software tools to boost your entire sales pipeline from product research to customer communication and Amazon refund automation. Make running a successful Amazon business easier with better data and insights. See what our customers have to say.
Helium 10 Chrome Extension: Verify your Amazon product idea and validate how lucrative it can be with over a dozen data metrics and profitability estimation. 
SellerTradmarks.com: Trademarks are vital for protecting your Amazon brand from hijackers, and sellertrademarks.com provides a streamlined process for helping you get one.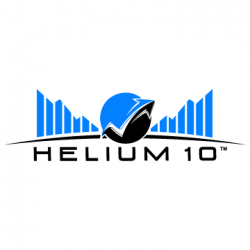 Latest posts by Helium 10
(see all)