Episode 175 of the Serious Sellers Podcast hosts an Amazon seller who's found success with a foundation of e-commerce skills and Helium 10's tools.
The Amazon selling space is so large that it seems there's room for almost everyone. E-commerce business professionals transitioning from brick and mortar, people using it as a high-powered side hustle, entrepreneurial moms, and young Lamborghini-flashing influencers.
But, there's one type of seller that always seems to stand out. For me at least, that's an everyday, hard-working person who's surprised themselves with their rapid success. These are the sellers that haven't spent time in our finer universities or grown up in families that encouraged entrepreneurship at a young age.
They just work hard, pay attention, and crush it.
Today on the Serious Sellers Podcast, Helium 10's Director of Training and Chief Brand Evangelist, Bradley Sutton welcomes Ronald Bell, who's just that kind of seller. Listen in and you'll hear an entire episode full of tips and strategies that sound like they come from a guy who should be giving e-commerce classes, not taking them.
02:00 – Starting with a Construction Company
03:30 – Scaling Up Quickly on Amazon
05:40 – How Did He find His First Product?
07:45 – What Were His Most Important Metrics?
09:30 – Slowly Building His Base with PPC
11:00 – Putting Customer Reviews to Work
14:00 – What's Ronald's PPC Budget?
16:00 – Making the PPC Work for You
18:45 – A $5000 Line of Credit Started Everything
20:35 – Beginning a Selling Season with "History"
22:45 – 100K Per Month Selling Part-Time on Amazon
26:45 – In His Projected Future, Three Million a Year and Volunteering
29:00 – "Special Ninja Tactics?" No, I Use Helium 10
32:00 – 3D Rendered Photos Make a Difference
Enjoy this episode? Be sure to check out our previous episodes for even more content to propel you to Amazon FBA Seller success! And don't forget to "Like" our Facebook page and subscribe to the podcast on iTunes, Google Play or wherever you listen to our podcast.
Want to absolutely start crushing it on Amazon? Here are few carefully curated resources to get you started:
Freedom Ticket: Taught by Amazon thought leader Kevin King, get A-Z Amazon strategies and techniques for establishing and solidifying your business.
Ultimate Resource Guide: Discover the best tools and services to help you dominate on Amazon.
Helium 10: 20+ software tools to boost your entire sales pipeline from product research to customer communication and Amazon refund automation. Make running a successful Amazon business easier with better data and insights. See what our customers have to say.
Helium 10 Chrome Extension: Verify your Amazon product idea and validate how lucrative it can be with over a dozen data metrics and profitability estimation. 
SellerTradmarks.com: Trademarks are vital for protecting your Amazon brand from hijackers, and sellertrademarks.com provides a streamlined process for helping you get one.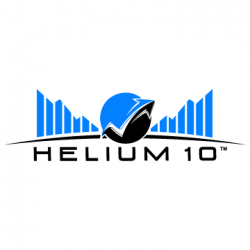 Latest posts by Helium 10
(see all)