In this episode, two new, UK based Amazon sellers talk about what's involved in creating e-commerce success in the European marketplace.
In spite of the continued tremendous growth, the world of e-commerce can feel pretty small. Whether it's Amazon sellers on the opposite side of the world using the same software to get their insights, or attending the same (now) online conferences, entrepreneurs are following a very similar path.
Still, there are significant differences. Today on the Serious Sellers Podcast, Helium 10's Director of Training and Chief Brand Evangelist, Bradley Sutton welcomes two UK based Amazon sellers to speak about life in the European e-commerce ecosystem.
Iman and Norbert are both relatively new Amazon sellers with Norbert just ahead of Iman's trajectory. He's already launched a product and can't get over the profit margins possible on Amazon. Iman is a musical recording artist who's worked with Ed Sheeran and Kanye West and is excited about creating an e-commerce brand.
They both have great insights on what it's like to sell (specifically) in Europe and talk about aspects of the Amazon selling experience that all of us can relate to.
In episode 177 of the Serious Sellers Podcast, Bradley, Iman, and Norbert discuss:
03:36 – Norbert Was, "Changing Jobs Like Gloves"
05:41 – Packaging Musical Dreams and An Amazon Selling Process
07:53 – Recording with Musical A-List Stars
10:19 – Ready to Receive the Amazon Message   
14:11 – Norbert Quickly Matched His Off-Amazon Salary
17:15 – Iman Says That Starting with Helium 10 Made Everything Easier
19:47 – Setting Up an LLC to Sell on Amazon
22:14 – Amazon Product Delivery by Silk Road Train    
24:43 – Norbert is a Fan of Amazon's Big Profit Margins   
28:14 – Value Added Tax (VAT) Can Be Complicated
30:06 – Signing Up as a European Amazon Seller
31:29 – Navigating Changes on Amazon Seller Central   
33:22 – What's Norbert's Launch Strategy?
33:44 – Building an Off-Amazon Audience   
38:42 – Iman is Building a Brand
40:50 – Norbert is Documenting Amazon Sellers' Journeys in Poland
43:56 – Iman's 3-5 Year Goal
Enjoy this episode? Be sure to check out our previous episodes for even more content to propel you to Amazon FBA Seller success! And don't forget to "Like" our Facebook page and subscribe to the podcast on iTunes, Google Play or wherever you listen to our podcast.
Want to absolutely start crushing it on Amazon? Here are few carefully curated resources to get you started:
Freedom Ticket: Taught by Amazon thought leader Kevin King, get A-Z Amazon strategies and techniques for establishing and solidifying your business.
Ultimate Resource Guide: Discover the best tools and services to help you dominate on Amazon.
Helium 10: 20+ software tools to boost your entire sales pipeline from product research to customer communication and Amazon refund automation. Make running a successful Amazon business easier with better data and insights. See what our customers have to say.
Helium 10 Chrome Extension: Verify your Amazon product idea and validate how lucrative it can be with over a dozen data metrics and profitability estimation. 
SellerTradmarks.com: Trademarks are vital for protecting your Amazon brand from hijackers, and sellertrademarks.com provides a streamlined process for helping you get one.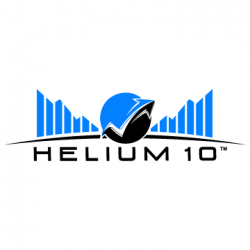 Latest posts by Helium 10
(see all)