Episode 165 of the Serious Sellers Podcast hosts an Amazon selling YouTube superstar speaking about diversified income and building schools in Africa.
Podcast: Play in new window | Download
Subscribe: Apple Podcasts | Android | Google Podcasts | Stitcher | TuneIn | Spotify |
When Amazon sellers imagine what success looks like to them, the mental picture that they come up with parallels pretty closely the e-commerce life and times of Tatiana James.
There's a long list of people that attribute their beginnings on Amazon to having watched one of her YouTube product videos. Today on the Serious Sellers Podcast, Helium 10's Director of Training and Chief Brand Evangelist, Bradley Sutton welcomes back the Amazon selling superstar to talk about what it's like at the top of the e-commerce mountain.
Tatiana James became a 7-Figure Amazon seller at the age of 24 and hasn't stopped since. Now after indulging her love for travel (18 countries and counting), she speaks about the opportunity to build schools in Africa and tells what it feels like to be able to give back.
In episode 165 of the Serious Sellers Podcast, Bradley and Tatiana discuss:
03:50 – Leveraging Amazon's Power and Building a Brand Elsewhere
07:30 – Becoming the Bottleneck at Your Own Business
09:45 – You Have to Test
13:00 – The Power of YouTube (But You Need to Be Consistent)
14:30 – Learning Something Twice with Video
17:00 – Establishing Trust (and Making a Little Money)
20:00 – Putting Her Amazon Money to Work
20:30 – What's a Normal Workday Like for Tatiana?
23:00 – Tatiana's Travel Itinerary – 18 Countries and Counting
25:45 – Big Success on Amazon Means Next-Level Fun
27:00 – Travel Means Experiencing Different Cultures
28:00 – Panama's Tax Savings  
30:50 – Recognizing Privilege and Opportunity
34:00 – What's in Tatiana's Future? 
35:45 – Investing in Entrepreneurs  
37:00 – How to Connect with Tatiana          
Enjoy this episode? Be sure to check out our previous episodes for even more content to propel you to Amazon FBA Seller success! And don't forget to "Like" our Facebook page and subscribe to the podcast on iTunes, Google Play or wherever you listen to our podcast.
Want to absolutely start crushing it on Amazon? Here are few carefully curated resources to get you started:
Freedom Ticket: Taught by Amazon thought leader Kevin King, get A-Z Amazon strategies and techniques for establishing and solidifying your business.
Ultimate Resource Guide: Discover the best tools and services to help you dominate on Amazon.
Helium 10: 20+ software tools to boost your entire sales pipeline from product research to customer communication and Amazon refund automation. Make running a successful Amazon business easier with better data and insights. See what our customers have to say.
Helium 10 Chrome Extension: Verify your Amazon product idea and validate how lucrative it can be with over a dozen data metrics and profitability estimation. 
SellerTradmarks.com: Trademarks are vital for protecting your Amazon brand from hijackers, and sellertrademarks.com provides a streamlined process for helping you get one.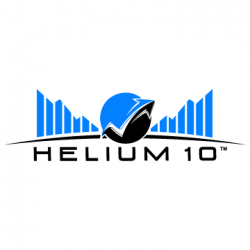 Latest posts by Helium 10
(see all)