Episode 159 of the Serious Sellers Podcast hosts an Amazon wholesale bundling expert with tactics that are hijacker resistant and competitor proof.
Podcast: Play in new window | Download
Subscribe: Apple Podcasts | Android | Google Podcasts | Stitcher | TuneIn | Spotify |
Are you one of the people that when you hear, "selling on Amazon," immediately think of a single private label product?
Maybe you've understood that selling wholesale on Amazon is a great opportunity, but it requires too much capital to get started.
If both of these statements are true, you've come to the right place. Because, today on the Serious Sellers Podcast, Helium 10's Director of Training and Chief Brand Evangelist, Bradley Sutton welcomes Kristin Ostrander, an expert on Amazon product bundling techniques.
In this episode you'll hear how you can get into Amazon wholesale for just a few hundred dollars. You'll also be treated to Kristin's tactics for creating hijacker resistant, competitor proof Amazon product bundles.
In episode 159 of the Serious Sellers Podcast, Bradley and Kristin discuss:
00:55 – Kristin's Wholesale Bundling System
04:15 – "This is Not How I Want to Live My Life"
06:40 – Making Ends Meet with eBay
08:00 – The Start of Kristin's Bundling Idea
09:30 – What Exactly is a Wholesale Product Bundle?
12:00 – Brands Matter but You Can Still Sell "Organics"
13:45 – Creating Your Own Bundles Brand
16:45 – A "Poor Man's Private Label"
18:00 – Bundling for What Buyers are Searching For
20:45 – What are Kristina's Go, No Go Metrics? 
23:05 – Competition Proofing Her Bundles
26:00 – Wholesale Success Stories
28:20 – Creating Custom "Hijacker Resistant" Bundles
32:00 – Kristin's 30 Second Tip
32:30 – How to Connect with Kristin
Enjoy this episode? Be sure to check out our previous episodes for even more content to propel you to Amazon FBA Seller success! And don't forget to "Like" our Facebook page and subscribe to the podcast on iTunes, Google Play or wherever you listen to our podcast.
Want to absolutely start crushing it on Amazon? Here are few carefully curated resources to get you started:
Freedom Ticket: Taught by Amazon thought leader Kevin King, get A-Z Amazon strategies and techniques for establishing and solidifying your business.
Ultimate Resource Guide: Discover the best tools and services to help you dominate on Amazon.
Helium 10: 20+ software tools to boost your entire sales pipeline from product research to customer communication and Amazon refund automation. Make running a successful Amazon business easier with better data and insights. See what our customers have to say.
Helium 10 Chrome Extension: Verify your Amazon product idea and validate how lucrative it can be with over a dozen data metrics and profitability estimation. 
SellerTradmarks.com: Trademarks are vital for protecting your Amazon brand from hijackers, and sellertrademarks.com provides a streamlined process for helping you get one.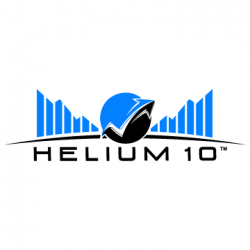 Latest posts by Helium 10
(see all)