Episode 157 of the Serious Sellers Podcast offers the "Best of Everything" from rock star entrepreneurs to Amazon brand registry and new Posts program.
Podcast: Play in new window | Download
Subscribe: Apple Podcasts | Android | Google Podcasts | Stitcher | TuneIn | Spotify |
At Helium 10, we love to create valuable content. Finding success on Amazon is a challenge and requires that you keep pace with a constantly moving (business) target.
Every single week, you'll have the chance to read, listen to, or watch something that helps you to level-up your Amazon business.
Today on the Serious Sellers Podcast, Helium 10's Director of Training and Chief Brand Evangelist, Bradley Sutton presents another "Best of Everything" episode that gives you a little sample of all that we do.
In this episode you'll hear everything from the story of a rock star that's bringing entrepreneurship and goodwill to Haiti, to a female lawyer who left the world's top grossing law firm to run a hostel (and start a thriving Amazon brand) in the Costa Rican jungle.
There's also a story on how Bradley got a trademark (and Amazon brand registry) in two weeks as well as the latest on Amazon's new Posts program.
 In episode 157, Bradley presents a "Best of Everything" Serious Sellers Podcast:
02:00 – Billing 3000 Hours a Year, Something Had to Give
03:30 – Anne's Price Point Shows that Amazon's Not Just for Bargain Shoppers
04:20 – Entrepreneurship for Kids
06:10 – Learning Lessons from Failure
09:00 – From Rockstar to Ambassador of Goodwill and Entrepreneurship
12:30 – Bradley's "Brand Error Code" Tactic  
16:30 – Scaling Way UP with LEGO
17:05 – How LEGO Uses Helium 10
21:20 – How to Get a Trademark and Amazon Brand Registry in 2 Weeks  
23:00 – Finding a Name for Your Trademark
24:30 – Do Your Brand Homework
26:30 – Be a "Tour Guide"
28:10 – The Perfect Social Animal
31:00 – Amazon's Posts Program
34:00 – Purchasing Products from Amazon Posts is Easy
37:00 – Amazon Posts – Best Practices    
Enjoy this episode? Be sure to check out our previous episodes for even more content to propel you to Amazon FBA Seller success! And don't forget to "Like" our Facebook page and subscribe to the podcast on iTunes, Google Play or wherever you listen to our podcast.
Want to absolutely start crushing it on Amazon? Here are few carefully curated resources to get you started:
Freedom Ticket: Taught by Amazon thought leader Kevin King, get A-Z Amazon strategies and techniques for establishing and solidifying your business.
Ultimate Resource Guide: Discover the best tools and services to help you dominate on Amazon.
Helium 10: 20+ software tools to boost your entire sales pipeline from product research to customer communication and Amazon refund automation. Make running a successful Amazon business easier with better data and insights. See what our customers have to say.
Helium 10 Chrome Extension: Verify your Amazon product idea and validate how lucrative it can be with over a dozen data metrics and profitability estimation. 
SellerTradmarks.com: Trademarks are vital for protecting your Amazon brand from hijackers, and sellertrademarks.com provides a streamlined process for helping you get one.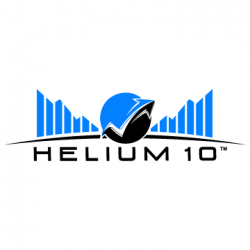 Latest posts by Helium 10
(see all)