Episode 151 of the Serious Sellers Podcast hosts former Amazonian, Chris McCabe whose risk assessment analysis company helps protect Amazon sellers.
Podcast: Play in new window | Download
Subscribe: Apple Podcasts | Android | Google Podcasts | Stitcher | TuneIn | Spotify |
There's probably nothing that's as frightening to an Amazon seller as the thought of suspension. When it happens, the first thought is often, "What was Amazon thinking?" 
Today on the Serious Sellers Podcast, Helium 10's Director of Training and Chief Brand Evangelist, Bradley Sutton welcomes a former Amazonian who because of his prior work with Amazon, has an inside track on the way that Amazon, "thinks."
Chris McCabe worked for Amazon's Performance and Policy Enforcement Team and now is on the other side of the table. He founded a company to help Amazon sellers evaluate their cases, and if necessary, compose the appeals. Chris offers sellers a clearer picture of what they can expect and how to move forward. He also knows what the guys on the other side of the table are thinking; after all he's been there.
Who doesn't want a peak behind the curtain? 
In episode 151 of the Serious Sellers Podcast, Bradley and Chris discuss:
01:30 – Keeping Amazon Happy
04:15 – What to Do with Troublesome Buyers
06:10 – The Only Former Amazonian Who's Been on Both sides
09:00 – Does Being Nice Really Work?
11:15 – Avoiding "Work-Arounds"
14:00 – What's the "Fair Pricing Policy?"
16:30 – The Top Three Reasons Your Amazon Listing Might Get Suspended
19:20 – Product Inserts are Low Hanging Fruit for Enforcement
22:50 – Your Entire Sales Funnel Might Be Monitored
24:40 – Amazon Now Wants More Details
28:00 – Prepopulated Five Star Reviews are No-Bueno
30:30 – Surviving 30-Day Messaging Suspensions
31:50 – Correctly Creating ASIN Variations
34:30 – You Need to Supply Amazon with the "Root" Cause   
37:00 – Protecting Your OWN Listings from Bad-Actors  
40:10 – No Need to Contact "Jeff"  
40:50 – How to Contact Chris
Enjoy this episode? Be sure to check out our previous episodes for even more content to propel you to Amazon FBA Seller success! And don't forget to "Like" our Facebook page and subscribe to the podcast on iTunes, Google Play or wherever you listen to our podcast.
Want to absolutely start crushing it on Amazon? Here are few carefully curated resources to get you started:
Freedom Ticket: Taught by Amazon thought leader Kevin King, get A-Z Amazon strategies and techniques for establishing and solidifying your business.
Ultimate Resource Guide: Discover the best tools and services to help you dominate on Amazon.
Helium 10: 20+ software tools to boost your entire sales pipeline from product research to customer communication and Amazon refund automation. Make running a successful Amazon business easier with better data and insights. See what our customers have to say.
Helium 10 Chrome Extension: Verify your Amazon product idea and validate how lucrative it can be with over a dozen data metrics and profitability estimation. 
SellerTradmarks.com: Trademarks are vital for protecting your Amazon brand from hijackers, and sellertrademarks.com provides a streamlined process for helping you get one.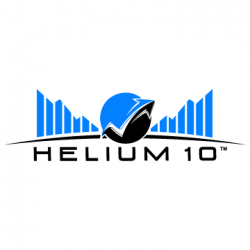 Latest posts by Helium 10
(see all)